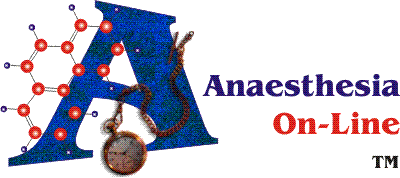 The International Journal of Anaesthesia. ISSN 1361-8245 First Published November 1995
---
Infective Endocarditis And Antibiotic Prophylaxis: A Systematic Review Of Efficacy, And Safety Of The AHA Guidelines Tempelhof & Reeves
Post-Operative Pain Experience And An Assessment Of Analgesic Administration In Elective Surgical Patients At A Teaching Hospital In Kingston, Jamaica Tennant et al
Submental intubation an alternative to tracheostomy in maxillofacial trauma: our experience of 10 cases Asnani, Mahindra, & Saluja
Comparison of visual estimation of blood loss with serial haemoglobin and haematocrit estimation in supratentorial craniotomy Abbasi et al
Remifentanil for the Treatment of Pain in External Cephalic Version
Muñoz Hernández et al.
Long Lasting Choreiform Dyskinesia After Spinal Anesthesia And Ondansetron - A Case Report And Review Of The Literature - Yen-Mie Lai et al.
Relationships Of Hyperglycemia And Neurological Outcome In Patients With Head Injury, And Insulin Therapy Jahan Porhomayon et al
A Study Of Postoperative Pain Relief In Caesarean Section With Intrathecal Midazolam. (A Study Of 50 Cases). Komal S Shah
Combination Of Glidescope With Fiberoptic Bronchoscope For The Optimization Of Difficult Endotracheal Intubation. Sukernik, Bezinover, Stahlman, Vaida, Pott. Obituary: Dr Sukernik
A simple device for measuring the degree of head-up tilt Goneppanavar Umesh et al
Comparison of intrathecal 'fentanyl and bupivicaine' and 'ketamine and bupivicaine' for spinal anaesthesia- randomized prospective double blind study Bhade & Nagappa
Cardiac Displacement during Surgery and its Effects

Karthekeyan et al

Postal Survey: Practice of taking consent for anaesthesia in Great Britain and Ireland Stewart & Deshpande
Freud and Anaesthesia Vijayan
Does early tracheostomy really change outcomes in the ICU? Siddiqui et al
Factors Affecting Preoperative Fear Oztin Ogun et al
Oxygen Requirements during Bronchoscopy Alijanpour et al
Anaesthesia in centenarians undergoing orthopedic surgery: a retrospective study Hove, Rohde, & Nielsen
Comparison of propofol and sevoflurane anesthesia on human cellular immunity in patients undergoing total hip arthroplasty Zhang et al
Perioperative Management for Surgical Mitral Commisurotomy in a patient with Rheumatic Mitral Stenosis and Sickle Cell Disease Malik, Shah & Upasani
Corrosion in an Anesthesia Delivery System Gombar et al
Cremasteric reflex as an indicator of successful spinal anaesthesia with bupivicaine and meperidine (pethidine) Dogan, Silbir & Erdem
A Case Report of Corneal Graft Surgery (Penetrating Keratoplasty) under Sub-Tenon's Block Barker & Moore
Management of Carbamazepine Overdose in the ICU Akyol et al Propacetamol vs. Tramadol for post–operative pain management after urologic surgery Aghamir et al
Predictive Value of Thromboelastogram for Postoperative Blood Loss in Off-Pump Coronary Artery Bypass Grafting Ng et al
Prevention of Pain on Propofol Injection Gupta et al
Audible Monitor Alarm: Friend or Foe? Osinaike et al
The role of mannitol for prevention of the post-reperfusion syndrome during liver transplantations by Dembo, Chen, Vater, Breslow & Martay
Brief Review of Procedural Sedation & Analgesia Gregory P. Neyman
Comparative study of local infiltration of bupivacaine and parenteral administration of diclofenac sodium for post tonsillectomy pain in adults Al-Khtoum
Bispectral index controlled anaesthesia for ECT Hanss et al
Laparoscopic Cholecystectomy for Acute Calculous Cholelithiasis with previous Pneumonectomy Malladi et al
Nitric Oxide and Propofol Xin-sheng Deng, Victoria J. Simpson and Richard A. Deitrich
High Altitude Medical Problems Tan & Chee
Complications of Intrathecal Drug Delivery Systems Kamran & Wright
The Management of Neuropathic Pain McCleane
Ventricular Tachycardia during pre-induction Charu Deva et al
Basic Statistics and Epidemiology for Anesthesia and Critical Care Practitioners by Robert E. Fromm, and Joseph Varon.
Cancer - Expertise is Prescribing Analgesics by Richard B. Patt.
Emergency Drugs in Anesthesiology and Critical Care Medicine by David Oeser and Joseph Varon.
Disclaimer
Although every effort is made by the publishers and editorial board to see that no inaccurate or misleading data, opinion or statement appear in this Anesthesia on-line journal, they wish to make it clear that the data and opinions appearing in the articles and advertisements herein are the responsibility of the contributor or advertiser concerned. Accordingly, the publishers and the editorial board accept no liability whatsoever for the consequences of any such inaccurate or misleading data, opinion or statement. Whilst every effort is made to ensure that drug doses and other quantities are presented accurately, readers are advised that new methods and techniques involving drug usage, and described in this Anesthesia journal, should only be followed in conjunction with the drug manufacturer's own published literature.
Anaesthesia On-Line is a Trade Mark of Priory Lodge Education Ltd.