Browse through our Journals...
<!-google_ad_section_start->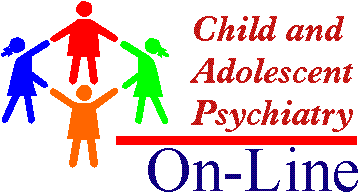 TM
---

Early Prefrontal Cortex Insult And Conduct Impairments William Sheehan and Steven Thurber

Munchausen By Proxy: Understanding The Psychopathology Of Its Perpetrators
Bradley & Halder

When Research Fails To Inform: Current Treatments For Depressed Children In An Inpatient Setting Ginicola & Saccoccio

Effects Of Game-Based Relaxation Training On Attention Problems In Anxious Children Knox, Lentini, & Aiton

Tactile Hallucinations associated with Clonidine Hayden, Tiburcio, Cepin & Lanka

Somnambulism Or Nocturnal Frontal Lobe Epilepsy? Majeed, Alia

Association Between Violent Video Games And Aggressive Behaviour In A Clinical Sample Of Hispanic Adolescents. Gutiérrez et al

Depression, psychosis and psoriasis in a child Agwani & Rais

Sensory Integration Disorder With OCD And Depression In A Child
Agwani, Knox & Adams

The Big-Seven Early Markers For Childhood-Onset Psychosis Spectrum Disorders Young

Neuropsychological Functioning In Children Of Patients With Schizophrenia
Anuradha, Srinivasan & Padmavati

Parenting Stress In Primary Caregivers Of Psychiatrically Hospitalized Children Knox and Singh.

Attending to Deficits in ADHD Clinic: Audit Cycle Bellenis, Bachlani, Badrakalimu

Behavioural Disorders in HIV infected Adolescents Bannerjee et al

Attention Deficit Hyperactivity Disorder in Girls Ahmad & Anderson

Psychobiological Depression in Childhood and Adolescence Messina & Tiedeman


Bipolar Disorder in a Pediatric Patient Lara Kierlin


Cognitive-Behavioral Therapy As A Clinical Intervention for Childhood Disruptive Behaviours: A Meta-Analysis Ghafoori & Tracz


Developmental Assessment of Young Children McAuley


Verbal/Performance IQ discrepancies in children attending a Child and Adolescent psychiatry clinic Daniel Riordan


Child Custody Access Evaluations; Cultural Aspects Reebye


Is Teacher's Knowledge about ADHD Improving? Jerome et al


Child and Adolescent Mental Health Resource Pack


101 WAYS to show you love somebody (without having sex)


'Something terrible happened' PTSD Roberts


"No Chance to Say Goodbye" Traumatic Bereavement and its Management


UK Database of Residential Units


How to learn to cope when you become depressed Roberts


Eliminating the Trauma Burden (A Reply to Dr Greenwald's Paper) Bhattacharyya


Children's Mental Health Care in the 21st. Century: Eliminating the Trauma BurdenGreenwald,


Socio-educational and Biomedical Models in the Treatment of ADHD Ford


Attention Deficit Disorder - An Educational Psychology Perspective.Dawson.


Cognitive Therapy with an Adolescent to Prevent Relapse of Psychotic Disorder. Beeken and Dwivedi


"More Than Words" Responding to Domestic Violence


Video Review - "Not always who they seem" Roberts


Services to meet the Mental Health needs of Children Dwivedi


Suicidal behaviour and the co-occurrence of behavioural, emotional and cognitive problems among adolescents Garnefski & Diekstra..


Child and Adolescent Psychiatry Letters Page


Parental influence, pessimism and adolescent suicidality Pearce, Martin, Miller, Long.

<!-google_ad_section_end->
Disclaimer:
Although every effort is made by the publishers and editorial board to see that no inaccurate or misleading data, opinion or statement appear in this on-line journal, they wish to make it clear that the data and opinions appearing in the articles and advertisements herein are the responsibility of the contributor, sponsor, or advertiser concerned. The contents of this journal and all Priory Journals are NOT intended as a substitute for your own doctor's advice.
Accordingly, the publishers and the editorial board accept no liability whatsoever for the consequences of any statement herein if taken in isolation or any inaccurate or misleading data, opinion or statement. Whilst every effort is made to ensure that drug doses and other quantities are presented accurately, readers are advised that new methods and techniques involving drug usage, and described in this journal, should only be followed in conjunction with the drug manufacturer's own published literature in their own country.
Child and Adolescent Psychiatry On-Line is part of Psychiatry On-Line (tm)
Copyright © Priory Lodge Education Limited 1994-2007