Browse through our Journals...
<!-google_ad_section_start->
Polycystic Liver Disease Inducing Right Atrial Dysfunction
Charlene LePane DO, Aref Alrayes MD, Kimberly Brown MD
Henry Ford Health System Department of Liver Transplant and Hepatology, St. John Oakland Hospital Department of Gastroenterology
We present a case of a 63 year old male with adult polycystic kidney and liver disease, who presented with abdominal pain and flu like symptoms. The patient's hospital course was complicated by acute renal failure and E. cloace septicemia with significant hypotension. Despite appropriate infection control the patient remained significantly hypotensive requiring daily continuous venovenous hemodialysis and furthermore requiring him to lie in the left lateral recumbent position in order to maintain a mean arterial pressure greater than 60 mm Hg. Imaging modalities including ultrasound (figure 1), computerized tomography (figure 2,3) and echocardiogram revealed the inferior vena cava and right atrium to be partially compressed by an enlarged polycystic liver parenchyma.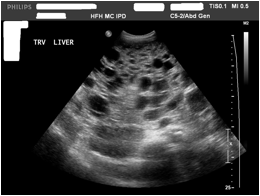 (figure 1)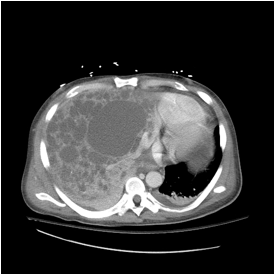 (figure 2)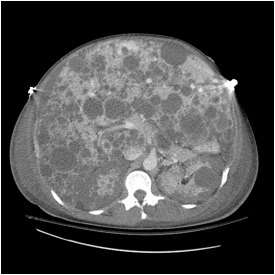 (figure 3)
As a temporary measure, he underwent CT-guided aspiration of the dominant liver cyst for symptomatic relief. He was started on octreotide and expeditiously placed on a combined liver and kidney transplant list. Eleven days later, he successfully underwent combined orthotopic liver and kidney transplant from a deceased donor.
Polycystic liver disease (PLD), defined as greater than 20 liver cysts, may be sporadic or dominantly inherited. It is caused by mutations of either PRKCSH or Sec63, two proteins associated with the endoplasmic reticulum .The occurrence is either an autosomal dominant polycystic kidney disease (ADPKD) in which the progressive development of renal cysts inevitably causes loss of renal function, or polycystic liver may be a sole manifestation. In addition to the cyst formation in multiple organs, this systemic disease is also characterized by abnormalities in the cardiovascular system. There is substantial variation in presentation and size of liver cysts in polycystic liver disease, however it is rare to see symptomatic mass effect exclusive to the right atrium as seen in our patient. There are two additional case reports that demonstrate a similar presentation of cardiac compression. While the curative therapy to reduce the burden of liver volume in these patients is either resection or liver transplantation, the induction of octreotide has been demonstrated in vitro to reduce cyst growth . Cyst growth is modulated by adenosine 3',5'-cyclic monophosphate, which stimulates cholangiocyte proliferation and cyst fluid secretion . Our case report is unique in that it is an abnormal presentation of a rare disease and reports the use of a drug that is currently under study for an alternative method of symptomatic relief prior to transplantation.
References
Gao H, Wang Y, Wegierski T, et al. PRKCSH/80K-H, the protein mutated in polycystic liver disease, protects polycystin-2/TRPP2 against HERP-mediated degradation. Human Molecular Genetics 2010; 19(1):16-24.
Masyuk TV, Masyuk AI, Torres VE, et al. Octreotide inhibits hepatic cystogenesis in a rodent model of polycystic liver disease by reducing cholangiocyte adenosine 3',5'-cyclic monophosphate. Gastroenterology 2007: 132(3):1104-16.
Van Keimpema L, De Man R, Drenth JP. Somatostatin analogues reduce liver volume in polycystic liver disease. Gut 2008; 57:1338-1339.
<!-google_ad_section_end->
Copyright Priory Lodge Education Limited 2010
First Published November 2010