Browse through our Journals...
<!-google_ad_section_start->
FOCUS ON OSELTAMIVIR

(Tamiflu ® )

Kalyani Asgaonkar
Lecturer
AISSMS college of Pharmacy
Pune.
INTRODUCTION:

Oseltamivir i.e., Tamiflu represents the prototype of neuraminidase inhibitors and is the main medicine recommended by the World Health Organization in anticipation of H5N1 pandemic.
STRUCTURE: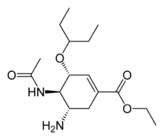 ethyl(3R,4R,5S)-5-amino-4-acetamido-3-(pentan-3-yloxy)cyclohex-1-ene-1-carboxylate.
MECHANISM OF ACTION:

This anti-influenza agent is an ester prodrug, and the hydrolytic metabolite but not the parent drug exerts antiviral activity. The hydrolytic biotransformation occurs primarily in the liver, presumably by carboxylesterases. Oseltamivir is a potent and selective inhibitor of the neuraminidase glycoprotein essential for replication of influenza A and B viruses.
To accommodate the bulky side chain of oseltamivir in the active site, the neuraminidase molecule must undergo rearrangement to create a pocket. Several mutations that limit the necessary molecular rearrangement may diminish the binding of Oseltamivir. Molecular-level analysis shows that the amino acid termed E276 must rotate and bond with R224 to form a pocket for the side chain of Oseltamivir. The mutations R292K, N294S, and H274Y inhibit this rotation and prevent the pocket from forming, resulting in resistance to Oseltamivir. The mutations nonetheless allow the binding of natural sialic acid substrate, so mutated virus can survive and propagate. An E119V mutation also interferes only with oseltamivir binding, possibly because a water molecule can fit between oseltamivir and valine at the active site but cannot insinuate itself between zanamivir and valine at residue 119.

PHARMACOKINETIC STUDIES:

ABSORPTION:

After oral administration, Oseltamivir is readily absorbed from the gastrointestinal tract. Oseltamivir phosphate is administered orally as an ethyl ester prodrug which is extensively converted by hepatic esterases to the active compound oseltamivir carboxylate(OC). Approximately 80% of an orally administered dose reaches the circulation as OC, and the metabolite has excellent penetration into tissues such as the lung, nasal mucosa, and middle ear.

BIOAVAILABILITY:

The absolute bioavailability of the active metabolite from orally administered Oseltamivir is 80%. The active metabolite is detectable in plasma within 30 minutes and reaches maximal concentrations after 3 to 4 hours. After peak plasma concentrations are attained, the concentration of the active metabolite declines with an apparent half-life of 6 to 10 hours. The pharmacokinetic profile of the active metabolite is linear and dose-proportional, with less than 2-fold accumulation over a dosage range of Oseltamivir 50 to 500 mg twice daily. Steady-state plasma concentrations are achieved within 3 days of twice daily administration, and at a dosage of 75mg twice daily the steady-state plasma trough concentrations of active metabolite remain above the minimum inhibitory concentration for all influenza strains tested. Oseltamivir carboxylate is 3% bound to human plasma proteins.

EXCRETION:

Oseltamivir carboxylate does not undergo further metabolism in vivo and is excreted unchanged in urine. It is eliminated through the kidneys by a first-order process as unchanged drug by glomerular filtration and tubular secretion by an anionic transporter system. Neither Oseltamivir or the active metabolite interacts with cytochrome P450 mixed-function oxidases or glucuronosyltransferases.
DRUG INTERACTIONS:
OSELTAMIVIR WITH CLOPIDOGREL:

In the presence of antiplatelet agent Clopidogrel, the hydrolysis of Oseltamivir was inhibited by as much as 90% when the equal concentration was assayed. Given the fact that hydrolysis of Oseltamivir is required for its therapeutic activity, concurrent use of both drugs would inhibit the activation of Oseltamivir, thus making this antiviral agent therapeutically inactive.At 5 µM (10% of the concentration of Oseltamivir), Clopidogrel inhibited Oseltamivir hydrolysis by as much as 55%. At the equal concentration (50 µM), the hydrolysis of Oseltamivir was inhibited by as much as 90%.
OSELTAMIVIR WITH PROBENECID:

Plasma concentrations of the active metabolite, Oseltamivir carboxylate, are increased in the presence of Probenecid, suggesting that the combination could allow for the use of reduced doses of Oseltamivir. Alternate-day dosing of Oseltamivir plus dosing with Probenecid four times daily achieved Oseltamivir carboxylate concentrations adequate for neuraminidase inhibition in vitro.
DOSAGE:

Studies in volunteers with experimental human influenza A or B showed that administration of oral Oseltamivir 20 to 200 mg twice daily for 5 days reduced both the quantity and duration of viral shedding compared with safety data from dose ranging studies show that 5 day courses of 150 mg twice daily for treatment and 6 week courses of 75 mg twice daily for prophylaxis were as well tolerated as the approved dose regimens.
Tamiflu may be taken with or without food.The recommended dose in adults is 75mg twice daily for 5 days,the treatment should begin with in 2 days of symptoms.tamiflu is not indicated for pediatric patients of less thn 1 year old.
ADVERSE EFFECTS:

Nausea, vomiting, diarrhea, bronchitis, dermatitis. Recently, concerns have been raised about hallucinations, delirium, and abnormal activity after administration of Oseltamivir for treatment of infection with influenza virus. A large epidemiologic study was conducted in Japan in the winter of 2006-2007 to assess the relationship between Oseltamivir intake and adverse behaviors, and an interim report was released on 10 July 2008. In the report, the research group concluded that no positive associations were detected between Oseltamivir intake and abnormal behaviors. However, the analytic method used in the study was flawed. A correct analysis (based on person-time) shows a rate ratio of 1.57

DEVELOPMENT OF RESISTANCE:

Drug resistance emerges at a higher rate in influenza A subtype H1N1 virus than in influenza A subtype H3N2 or influenza B virus after tiered weight-based Oseltamivir.
Influenza A viruses (H1N1 subtype) that are resistant to the drug Oseltamivir circulated widely in the U.S. during the 2007-2008 influenza season, with an even higher prevalence of drug resistance during the current 2008-2009 influenza season, according to a new study. During the 2007-2008 season, influenza A (H1N1) accounted for an estimated 19 percent of circulating influenza viruses in the United States. Resistance to Oseltamivir was identified among 142 of 1,155 U.S. influenza A(H1N1) viruses (12 percent) tested during the 2007-2008 influenza season. Data were available for 99 persons infected with Oseltamivir-resistant influenza and 182 persons infected with Oseltamivir-susceptible influenza from this period. Preliminary data from the early 2008-2009 influenza season indicates that Oseltamivir resistance among A (H1N1) viruses continues at high levels. As of February 19, 2009, resistance to oseltamivir had been identified among 264 of 268 (98.5 percent) U.S. influenza A (H1N1) viruses tested.
DOSAGE FORM:
Marketed by Roche in the forms of capsules and suspension.
References:

Anne Moscona.The New England Journal of Medicine 353 (25): 2633–2636.
Boak et al. Journal of Clinical Pharmacology.June,2008; 48: 935-947.
Craig R et al. J Clinical Pharmacology .2008; 48: 935-947.
C.Worley, ScottW. Roberts, and Roger E. Bawdon. Infectious Diseases in Obstetrics and Gynecology. Feb,2008, Article ID 927574.
Democratis J, et al .Clinical Infectious Diseases.Feb,2009 ;48(4):389-96.
Deshi Shi, et al. JPET, 2006;319:1477-1484.
Doucette KE,Aoki FY. Expert Opinion on Pharmacotherapy.Oct,2001;2(10):1671-83.
He G, Massarella J, Ward P. Clinical Pharmacokinetic. Dec,1999;37(6):471-84.
Holodniy M, et al. Antimicrobial Agents and Chemotherpy. Sep, 2008; 52(9): 3013-21.
Kevin C.Worley, ScottW. Roberts, and Roger E. Bawdon. Infectious Diseases in Obstetrics and Gynecology. June, 2008, Article ID 927574, 5 pages.
McClellan K, Perry CM. Drugs. 2001;61(2): 263-83.
Normile D. Science (Wash DC), 2006; 311: 315–316.
Oxford JS, Mann A, and Lambkin R. Expert Review Anti Infective Therapy, 2003; 1: 337–342.
Penelope Ward, et al. The Journal of Antimicrobial Chemotherapy. Feb, 2005;55 Suppl 1: i5-i21.
Sweeny DJ, Lynch G, Bidgood AM, Lew W, Wang KY, and Cundy KC. Drug Metabolism and Disposition, 2000; 28: 737–741.
ScienceDaily. Mar, 2009.
Yorifuji T, Suzuki E, Tsuda T. Epidemiology. Jul, 2009; 20(4):619-21.
http://www.rocheusa.com/products/tamiflu/pi.pdf
<!-google_ad_section_end->
First Published October 209
Copyright Priory Lodge Education Limited 2009