Browse through our Journals...
<!-google_ad_section_start->
The Worcestershire Prostate and Breast Cancer Survivorship Programmes: the primary care perspective
Goonewardene, Symons, Sullivan, Thrush, Young,& Makar. Authors details
Keywords: Prostate and breast cancer, survivorship, follow-up, community-based.
Introduction
2 million people have had a cancer diagnosis in the UK [1]. Prostate cancer and breast cancer are among the most frequently diagnosed cancers [2]. Due to improvement in diagnosis and treatment, survivors are increasing. Survivorship is defined by Macmillan as someone who has completed initial cancer management with no evidence of apparent disease [3]. According to the National Cancer Institute (NCI), cancer survivorship encompasses the "physical, psychosocial, and economic issues of cancer from diagnosis until the end of life." [4]
Hospital clinics are often overbooked with follow-up patients, many in the survivorship phase, with little time available for each patient [5]. Yet in some areas general practitioners follow-up these patients. The multidisciplinary team, primary and secondary care co-ordination is vital to the holistic approach to patient survivorship [6]. Involvement of community based care in survivorship has been shown to be beneficial [7]. Follow up for breast and prostate cancer survivors through the UK varies, with some being discharged back to their GP for follow up and others remain under secondary care. Cancer survivors are at risk for a wide range of late effects/ recurrence, and may very often present to their GP, post hospital discharge, increasing the workload.
Primary care physicians in America provide this care for breast cancer survivors, yet the expected scope of care in the years after completion of treatment has shifted [8].In addition to surveillance for recurrence, health care providers manage the effects of cancer and its treatment (physical, psychosocial, and information needs), ensure general medical and preventive health concerns are met. Several studies demonstrate that community based care is important as part of a patients' survivorship care [9-11] however guidance may be needed if in primary care alone [9-11]. This has yet to be developed for prostate cancer. Yet survivorship care is optimal when it is community based [12, 13]. Survivorship care plans were found to be central to this [14]. However patients often expected secondary care input, during their Survivorship phase [15]. Uncertainties around physician roles and responsibilities can lead to deficiencies in care, emphasising the importance of Survivorship care plans.
Few studies or guidelines address the broader, multifaceted aspects of cancer survivorship care including patients' taking responsibility for their own care [5]. Traditionally, cancer services have focused on cancer as an acute illness, not holistic care [16]. Yet cancer survivors face a myriad of personal and health issues related to their cancer treatment [8]. The holistic approach towards physical, mental, emotional well-being has been highlighted as part of this.
The New Programmes
Once patients with prostate cancer have entered the 'survivorship phase,' they offered the option of entering into the programme. Patients who have initial therapy with curative intent for organ confined disease are invited to join (surgery, external beam radiotherapy or brachytherapy). Patients must be 2 years post radical prostatectomy with an unrecordable PSA reading, 3 years post external beam radiotherapy with no metabolic relapse (Phoenix criteria) or brachytherapy with no metabolic relapse (Phoenix Criteria) (please see Figure 1). Recurrence will be monitored via the PSA. They would be discharged from clinic and their details including PSA would be entered into a password protected database by a specialist nurse. They act as the patients' Keyworker. This database is a bespoke database which draws in information from pathological and clinical systems. This database can generate alerts if PSA is elevated. Patients would be brought back to the clinic by the specialist nurse, if the PSA is elevated, symptoms/ signs of recurrence, adverse effects of treatment or patient's request. In order to co-ordinate such large figures, a specialist software programme has been developed with the trust IT automatically generating follow up, depending on PSAs, surgery and radiotherapy, which is currently in use. To aid the holistic approach of the community based Survivorship Programme, we have the newly built Wellbeing center. This is a community based centre, to be set up as a patient support centre.
The Breast Cancer Survivorship Programme is aimed at targeting the low risk groups, DCIS, G1, G2 No (Please see figure 2). The majority of patients in the low risk group will never have recurrence. However there is no evidence that early detection of distant metastases will lead to an increase in survival within this cohort. There are around 107 women in Worcestershire newly diagnosed with breast cancer every year. When patients are defined as survivors, they are offered the option of entering into the Breast Cancer Survivorship Programme and discharged from clinic. To enter this programme, patients must be in the curative phase post DCIS/ T1 (G1-2 No) breast cancer (excluding neoadjuvants). Follow-up yearly mammograms would be conducted for 5 years, the result of which would be entered into a central database by a Specialist Breast Nurse. Clinical and Pathology staging data are available on this database.
We present results of a questionnaire aimed at General Practitioners, to understand their views on the Survivorship Care Programme, in order to develop the programme further.
Method
We conducted a GP evening (sponsored by Pfizer, Astellas, Ipsen, held at Sixways Rugby Club, Worcester) at which there were two presentations by a Urology Consultant and a Breast Surgeon on management of Prostate and Breast Cancer and the respective Survivorship Programmes run by Worcestershire Acute Hospitals. Pre and Post event questionnaires were handed out to GPs in order to gain there perspective on the topics discussed, including management and understanding.
Results
Twenty questionnaires were filled out by GPs (100% response rate). Please see table 1 and 2 for results.
Discussion
In many communities in England, GPs are central to management of the prostate and breast cancer survivors, once they have been discharged from hospital care. However, our questionnaire results have demonstrated lower confidence levels with management of relapsing/ hormone resistant breast/ prostate cancer and management of side effects. This knowledge is central to the management of the cancer survivor. However 50% of GPs who attended were not fully informed about the survivorship programme which is designed to remove this burden of care from general practice. In addition, many had misconceptions about the programme. 25% of GPs thought it was only a programme to empower patients who are cured, and 15% thought it was a programme with a holistic approach, with nothing else offered.
After this event, the level of knowledge on the programme had increased, with 100% realising the true purpose of both programmes. The majority of GPs however, thought the best points about the programme were empowerment of patients, the holistic approach taken and financial savings which were brought to the NHS. 100% of GPS thought patients and secondary care would benefit, however 65% thought General practice itself would benefit.
The purpose of both Survivorship care programmes, has been to keep patients under surveillance in the community whilst under the clinical governance umbrella of secondary care. In this respect, burden of care is taken away from the GPs, as the patients would be under secondary care follow-up albeit on the programme. Even if patients have issues with side effects of treatment or symptoms of relapse, their keyworker is the specialist nurse, who can then directly get them access to the next available clinic. As opposed to presenting to their GP, then having to be re-referred back to clinic. This saves GP appointments as well. In addition to that, with simple GP follow-up alone, as with routine secondary care follow-up, the GP very often has 5-10 minutes to see a patient, not enough to address all the holistic issues these patients may have. We can target this however by using the distress thermometer which is central to our survivorship care plans in order to see what areas patients required support in e.g., social, financial, emotional, psychological and target them appropriately.
These patients are further supported by The Survivorship Conference, which is an annual event for each programme, where the patients have access to health care professionals talking on a range of related topics. In addition, there is the newly built Well-Being Centre, which we are currently setting up with holistic support for patients on this programme.
The most important point from this event, was that in 80% of cases, it did change the way GPs would follow up breast and prostate cancer. This is a very important point, as with this programme, the NHS can save money on both GP and secondary care appointments.
The next step for the Survivorship Programmes, would be to develop pathways for patients e.g. with prostate cancer with active or metastatic disease to be followed up on the programme in the community – we are currently working on a new service pathway with regards to this.
Conclusions
We have demonstrated what the GP viewpoint on both Survivorship programmes have been and the next steps to take this programme forward, including further development of a more community based system, where all survivors, not just the cured patients can be followed up.
Figure one) Flow chart for the Worcestershire Prostate Cancer Survivorship Programme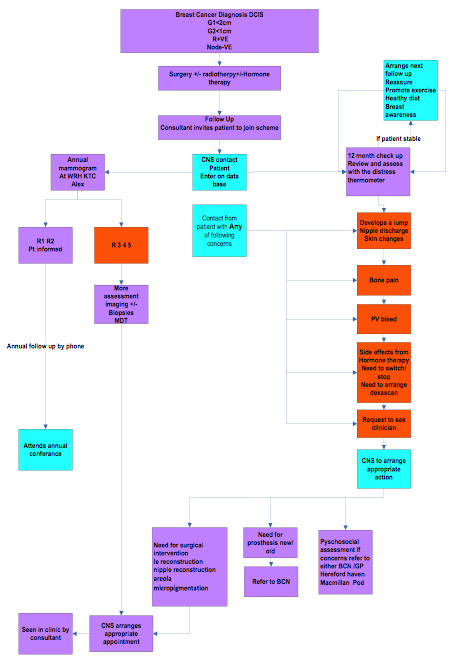 Figure 2) Flow chart for the Worcestershire Breast Cancer Survivorship Programme
Table 1) demonstrating results of pre-event questionnaire

Question 1) How confident are you in management/ understanding of the following topics (on a scale of 1 to 10: 1 meaning not confdent and 10 knowing everything you need to know)

Management of prostate and breast cancer - stable disease

Score 1

2

3

4

5

6

7

8

9

10

Number of replies

5% (1)

5% (1)

10% (2)

15% (3)

30% (6)

20% (4)

10% (2)

5% (1)

Management of prostate and breast cancer – relapsing/ hormone resistant disease

Score 1

2

3

4

5

6

7

8

9

10

Number of replies

5% (1)

10% (2)

10% (2)

20% (4)

30%

(6)

10%

(2)

10%

(2)

5%

1

New developments in the field of prostate and breast cancer treatment

Score 1

2

3

4

5

6

7

8

9

10

Number of replies

20%

(4)

20% (4)

20% (4)

15% (3)

15% (3)

5% (1)

5% (1)

5% (1)

Side effects of treatment

Score 1

2

3

4

5

6

7

8

9

10

15%

(3)

25% (5)

25% (5)

25%

(5)

5% (1)

5% (1)

Question 2) What do you know about the Survivorship Programme? (knowledge level on a scale of 1-10, one being you know nothing, 10 being you are well informed)

Score 1

2

3

4

5

6

7

8

9

10

Number of replies

30% (6)

20% (4)

10% (2)

15% (3)

5% (1)

10% (2)

5% (1)

5% (1)

Question 3) What do you think the Survivorship Programme is?

A programme to empower/ educate patients who have completed treatment with curative intent 25% (5)

A programme for follow up of patients who have completed treatment with curative intent

A programme for follow up of patients with active cancer

A programme with a holistic approach to patient care 15% (3)

All of the above 60% (12)
Table 2) Post event GP questionnaire results

Question 1) After this evening, what do you feel your knowledge level is now on the Survivorship Programme? (knowledge level on a scale of 1-10)

Score 1

2

3

4

5

6

7

8

9

10

Number of replies

15% (3)

25% (5)

25% (5)

35% (7)

Question 2) Now what do you think the Survivorship Programme is?

A programme to empower/ educate patients who have had treatment with curative intent

A programme for follow up of patients who have had treatment with curative intent

A programme for follow up of patients with active cancer

A programme with a holistic approach to patient care

All of the above 20 (100%)

Question 3) How do you feel about having the breast and prostate cancer survivorship programme to follow up patients who have had treatment with curative intent?

Do not need 0

Would like 35% (7)

Absolutely need 65% (13)

Question 4) What about follow up of patients with active disease?

Do not need:

5% (1) reason given: in order to ensure recurrence is picked up earlier

Would like 65% (13)

Absolutely need 30% (6)

What do you think is good about the survivorship Programme

Follow- up of patients in the community 20% (4)

Patients still being under an MDT specialist team 10% (2)

Empowerment of patients 35% (7)

Holistic approach to patient care 35% (7)

Financial savings to the NHS 35% (7)

The Survivorship conference 15% (3)

The Wellbeing Centre 5% (1)

All of the above 50% (10)

Who do you think this programme will benefit?

Patients 100% (20)

GPs 65% (13)

Secondary Care 100% (20)

The NHS 45% (9)

Would you be happy to attend The Survivorship Conference if you were invited?

Yes 80% (16) No 20% (4) (due to time constraints)

Has this meeting and the Survivorship programme changed the way you would now follow up patients cured of breast/ prostate cancer?

Yes 80% (16) No 20% (4) (as they are followed up by secondary care )
Authors:
Ms Sanchia S Goonewardene MBChB BMedSc(Hons) PGCGC Dip.SSC MRCS (Ed) MRCS (Eng)
Urology Registrar*
Mary Symons
Specialist Nurse**
Anne Sullivan
Specialist Nurse**
Mr. Steven Thrush FRCS
Consultant Breast Surgeon**
Professor Annie Young***
University of Warwick
Mr Makar MBBS FRCS
Consultant Urologist**
*Bristol Southmead Hospital
Southmead
Bristol
BS10 5NB
**Worcester Royal Infirmary
Charles Hastings Way
Worcestershire
WR5 1DH
*** University of Warwick,
Department of Health Sciences,
Warwick
Emails: ssg7727@yahoo.co.uk, mary.symons@worcsacute.nhs.uk, anne.sullivan@worcsacute.nhs.uk, steven.thrush@worcsacute.nhs.uk, annie.young@warwick.ac.uk, adel.makar@worcsacute.nhs.uk
R

eferences

[1] Hindle S; Cancer survivorship and the role of support workers. British Journal of Healthcare Assistants. (2010) 04: 10.

[2] Ganz PA. Survivorship: adult cancer survivors.Prim Care. (2009) 36(4):721-41.

[3]Who is a cancer Survivor? Cancer Nursing Practice (2010) 9: 1-7

[4] Greer GE, Rowland JH, Miller A, Doneski D, Coughlin SS, Stovall E, Ulman D.Cancer survivorship: a new challenge in comprehensive cancer control.Cancer Causes Control. (2005) 16 Suppl 1:51-9.

[5] Tolaney SM, Winer EP. Follow-up care of patients with breast cancer. Breast. (2007) 16 Suppl 2:S45-50.

[6] Living with and beyond cancer: The improvement story so far, NHS Improvements (2010)

[7] Fairley TL, Pollack L, Moore AR, Smith JL. Addressing Cancer Survivorship Through Public Health:An Update from the Centers for Disease. Journal of Womens' Health. (2009) Volume 18: 10.

[8] Ganz PA.Survivorship: adult cancer survivors.Prim Care. (2009) 36(4):721-41.

[9]Grunfeld E, Mant D, Yudkin P. Routine follow-up of breast cancer in primary care: Randomised trial. BMJ. (1996) 313:665–669.

[10] Grunfeld E, Levine MN, Julian JA, et al. Randomized trial of long-term follow-up for early-stage breast cancer: A comparison of family physician versus specialist care. J Clin Oncol. (2006) 24:848–855.

[11] Wattchow DA, Weller DP, Esterman A, et al. General practice versus surgical-based follow-up for patients with colon cancer: Randomised controlled trial. Br J Cancer. (2006) 94:1116–1121.

[12] Earle CC, Neville BA. Under use of necessary care among cancer survivors. Cancer. (2004) 101:1712–171.

[13] Earle CC, Burstein HJ, Winer EP. Quality of non-breast cancer health maintenance among elderly breast cancer survivors. J Clin Oncol. (2003) 21:1447–1451.

[14] Shalom MM, Hahn EE, Casillas J, Ganz PA. Do survivorship care plans make a difference? A primary care provider perspective, J Oncol Pract. (2011) 7(5):314-8.

[15] Cheung WY, Neville BA, Cameron DB, Cook EF, Earle CC., Comparisons of patient and physician expectations for cancer survivorship care, J Clin Oncol. (2009) 20;27(15):2489-95.

[16] Lewis RA, Neal RD, Williams NH, France B, Hendry M, Russell D, Hughes DA, Russell I, Stuart NS, Weller D, Wilkinson C.Follow-up of cancer in primary care versus secondary care: systematic review.Br J Gen Pract. (2009) 59(564): 234-47.

<!-google_ad_section_end->

Copyright Priory Lodge Education Limited, 2013 -

First Publsiehd August 2013.