Browse through our Journals...
<!-google_ad_section_start->
Vertical Root Fracture Masquerading As A Periodontal Abscess - A Case Report
Summary:
Diagnosis and management of vertical root fracture is a challenging task for the clinician. Vertical root fracture commonly affects endodontically treated mandibular molars. This case report describes a vertical root fracture affecting the mesial root of the mandibular first molar presenting with features of a periodontal abscess. Treatment options are varied, the most predictable being hemisection. In this case, a hemisection followed by restoration with a fixed prosthesis was done.
Keywords: Root fracture, hemisection, perio-restorative, interdisciplinary, periodontal abscess.

INTRODUCTION :

Progress in dentistry has led to a plethora of materials and treatment options becoming available. Conservation of teeth for longer periods has also brought forth associated problems such as root fractures. Vertical root fractures are usually characterized by an incomplete or complete fracture line that extends through the long axis of the root towards the apex. Vertical root fractures represent between 2 to 5% of crown root fractures1, with greatest incidence occurring in endodontically treated teeth in patients between 45 to 60years of age2.
The predisposing factors are the loss of tooth material, anatomy of the susceptible teeth, previous dentinal cracks, habits like bruxism and clenching. Physical trauma is the most common cause for tooth/root fracture in vital teeth. In endodontically treated teeth, the primary pre-disposing factors are iatrogenic in nature. They include:
• Excessive canal shaping
• Excessive pressure during compaction of gutta percha
• Excessive length and width of post space in relation to tooth's anatomy and morphology
• Excessive pressure during placement of the dowel
• Improper choice of tooth for bridge abutment
This case report describes a vertical root fracture of the right mandibular first molar, which presented with features of a periodontal abscess.

CASE DESCRIPTION

A 54 year old male patient was referred from the department of Endodontics to the specialty clinics of Periodontics, Sri Ramachandra Dental College, SRMC&RI, for opinion regarding the persistent gingival swelling and pain in relation to an endodontically treated and crowned lower right first molar. A comprehensive medical and dental history was taken. The patient was found to be a Type II diabetic, under medication for the past ten years.
On clinical examination, he presented with a red, soft, diffuse gingival swelling involving the facial and lingual aspect of the mandibular right first molar (46). A purulent exudate was elicited on digital pressure. The tooth was tender on percussion and exhibited grade II mobility. A localized probing depth of 8mm (mid- buccal) & 7mm (mid-lingual) was recorded. The above clinical features were consistent with the diagnosis of a periodontal abscess. On radiographic investigation, the Intra oral peri-apical radiograph revealed radiolucency at the furcation and widening of the periodontal ligament space in the distal root of 46. A diffuse radiolucent area was noted, surrounding the mesial root of 46.
To alleviate the symptoms of the patient, an immediate drainage of the purulent exudate through the pocket was done, following which the patient was placed under an antibiotic regimen for five days. Three days after the initial visit, a thorough oral prophylaxis and Root planing in 46 was performed. At the recall visit two weeks later, a sufficient resolution of the clinical signs of inflammation was not present, but a reduction in mobility to grade I was evident. To make the site more amenable for surgery, Tetracycline fibers* were placed locally in 46. The vitallium jacket crown was removed prior to flap surgery. An envelope flap was reflected and the affected area was thoroughly debrided. An incomplete vertical root fracture extending in the buccolingual direction, involving the mesial root of 46 was detected. A V shaped osseous defect extending to the apex of the mesial root of 46 and bone loss in the furcation area was also observed.
As a sequel to this finding, a hemisection of 46 was carried out and the mesial half of the tooth was removed. Synthetic hydroxyapatite** was grafted in the bone defect and interrupted sutures were placed across the edentulous space. The surgical site was covered with a periodontal dressing†. Three weeks following surgery, complete healing in the surgical site was observed. Six months later, intraoral periapical radiograph showed complete regeneration at the grafted site and a full ceramic bridge was fixed using 45, 46 (distal half) as abutments.
FIGURE LEGENDS:
Figure 1- Pre-operative picture – Buccal view

Figure 2- Pre-operative X-ray.

Figure 3- Local drug delivery with Tetracycline fibers.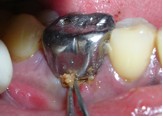 Figure 4- Surgical pre-operative picture.


Figure 5- Vertical root fracture of mesial root of 46 after flap reflection; a V shaped osseous defect and furcation bone loss also visible.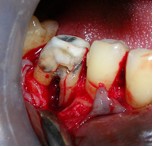 Figure 6- Hemisection of 46 performed.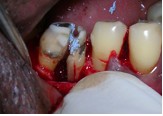 Figure 7- Bone defect visible following hemisection.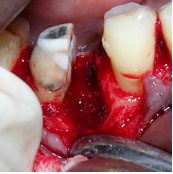 Figure 8- Synthetic Hydroxyapatite grafted into the defect site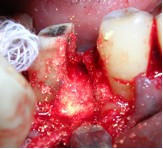 Figure 9- Suturing of surgical site.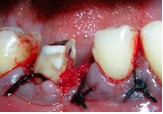 Figure 10- Healing at surgical site after 3 weeks.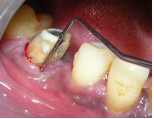 Figure 11- Full ceramic crown placed after 6 months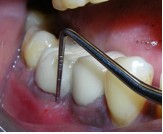 Figure 12- Immediate post operative X-ray.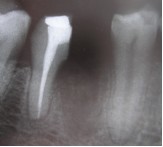 Figure 13- Six month post-operative X-ray showing bone regeneration at the defect site.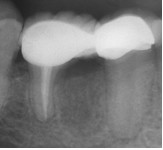 DISCUSSION

Vertical root fractures pose a frustrating problem to the patients as well as the dentist because they are difficult to diagnose during the early stages. The case described here is a vertical root fracture masquerading as a periodontal abscess. Early diagnosis of the vertical root fracture is based on both clinical and radiographic findings. However, the clinical findings are varied and nonspecific. They include discomfort/pain while biting/chewing, noticeable gingival swelling, and presence of a sinus tract or a deep narrow isolated pocket along the surface of the tooth. Tamse et al3 has reported 36.7% of "halo" and 28.6% of "periodontal" radiolucencies involving periradicular areas around vertically fractured mesial roots of mandibular molars. In this case, the "halo" like radiographic appearance around the mesial root of 46 was observed, which is in concordance with the previous reports. The V shaped resorption pattern facing the fracture line was also in par with findings reported by Lustig et al4.
In the past, vertical root fractures were considered to have a hopeless prognosis and were extracted. In recent times, several treatment options have been tried out including use of composite resin cement5, Mineral Trioxide Aggregate6, and silver glass ionomer cement7 for bonding the fracture line. The above mentioned treatment methods have limited success rate in the presence of a weakened periodontium. The most predictable treatment alternative is hemisection8 followed by fixed prosthesis. Therefore, early and correct diagnosis is imperative, as delay will result in rapid loss of supporting bone and eventually tooth loss.
1. LAVU VAMSI, MDS, LECTURER
DEPARTMENT OF PERIODONTICS, SRI RAMACHANDRA DENTAL COLLEGE AND HOSPITAL, SRI RAMACHANDRA UNIVERSITY.
E-MAIL ID: vamsilavu@rediffmail.com
2. T.A. LALITHA, MDS, SENIOR LECTURER
DEPARTMENT OF PERIODONTICS, SRI RAMACHANDRA DENTAL COLLEGE AND HOSPITAL, SRI RAMACHANDRA UNIVERSITY
E MAIL ID: drlalita@yahoo.com
3. R.SURESH, MDS, PhD, PROFESSOR AND HEAD
DEPARTMENT OF PERIODONTICS
SRI RAMACHANDRA DENTAL COLLEGE AND HOSPITAL
SRI RAMACHANDRA UNIVERSITY.
CORRESPONDING AUTHOR:
Dr. R. SURESH, MDS, PhD, PROFESSOR AND HEAD
DEPARTMENT OF PERIODONTICS
SRI RAMACHANDRA DENTAL COLLEGE AND HOSPITAL
SRI RAMACHANDRA UNIVERSITY, PORUR, CHENNAI- 600116, TAMIL NADU, INDIA..


TRADE NAMES:
* Periodontal Plus AB, under the license from ENCOLL, Fremont, CA, USA.
** G-bone, Surgiwear, India.
† COE- PAK TM GC AMERICA Inc, ALSLIP, IL-60803

REFERENCES:

1. Cohen S, Bianco L, Berman L. Vertical root fractures: clinical and radiographic diagnosis. J Am Dent Assoc,2003 Apr ;134(4): 434-441.
2. Testori T, Badino M, Castagnola M. Vertical root fractures in endodontically treated teeth: a clinical survey of 36 cases .J Endod, 1993 Feb; 19(2): 87-91.
3. Tamse A, Kaffe I, Lustig J, Ganor Y, Fuss Z. Radiographic features of vertically fractured endodontically treated mesial roots of mandibular molars.
Oral Surg Oral Med Oral Pathol Oral Radiol Endod. 2006 Jun; 101(6): 797-802.
4. Lustig JP, Tamse A, Fuss Z. Pattern of bone resorption in vertically fractured, endodontically treated teeth. Oral Surg Oral Med Oral Pathol Oral Radiol Endod. 2000 Aug; 90(2): 224-7
5. Hasegawa A, Bando H, Fukai K, Vongsurasit T, Tsuchida T. Periodontal surgical approach to the vertical fracture of the root. The application of composite resin to the fractured root surface. Nippon Shishubyo Gakkai Kaishi. 1988 Dec; 30(4): 1180-5.
6. Schwartz RS, Mauger M, Clement DJ, Walker WA 3rd. Mineral trioxide. A new material for endodontics. J Am Dent Assoc, 1999 Jul; 130(7): 967-75.
7. Selden HS. Repair of incomplete vertical root fractures in endodontically treated teeth-in vivo trials. J Endod, 1996 Aug; 22(8): 426-9
8. Kurtzman GM, Silverstein LH, Shatz PC. Hemisection as an alternative treatment for vertically fractured mandibular molars. Compend Contin Educ Dent, 2006 Feb; 27(2): 126-129.
First Published April 25th 2007
Copyright © Priory Lodge Education Limited 2007