Bronchoscope observations after conservatively treated postintubation tracheobronchial rupture
Erik Skobel1, MD, Gerald Gehbauer2, MD, Pierre Hanna1, MD, Christian Breuer1, MD
1: Medizinische Klinik I, Department of Cardiology, RWTH University Hospital Aachen, Germany
2: Medizinische Klinik IV, Department of Oncology, RWTH University Hospital Aachen, Germany
Correspondence address:
Erik Skobel, M.D.
Medizinische Klinik I
RWTH University Hospital Aachen
Pauwelsstraße 30, 52074 Aachen, Germany
Phone: +49 (0)241 8089858
Fax: +49 (0)241 8082414
Email: erik.skobel@t-online.de
Summary
The rupture of the trachea is a rare but serious complication after endotracheal intubation.
We report a case of tracheobrachial rupture occurring after intubation associated with a subcutaneos emphysema, who was treated conservatively due to reduced conditions. The choice of therapy are briefly discussed and bronchoscopic interpretations are presented.
Key words: Tracheal rupture, bronchoscopy, rupture
Introduction
Tracheal intubation-related airway ruptures are rare but probably underestimated. Early diagnosis and urgent repair is essential. Overinflation of the tracheal cuff is speculated to be a frequent cause of the tracheal damage1. The diagnosis is suspected on the basis of common signs such as subcutaneous emphysema, respiratory distress, pneumomediastinum and pneumothorax. Fiberoptic bronchoscopy is the best diagnostic tool for determining the location and extent of the lesion1. Extensive laceration with severe respiratory disorders required emergent repair through a right posterolateral thoracotomy. The choice between conservatively or surgical treatment is variable depending on clinical findings.2 We describe a case with postintubation tracheobronchial rupture who was treated conservatively. Using bronchoscopy we were able to demonstrate the healing process of the posterior membranous wall laceration during two months.
CASE REPORT
MPEG of bronchoscopy - initially (Right click on link)
In November 1999 a 67-year old female patient was first diagnosed with stage II A/E follicular lymphoma grade I according to the WHO-classification. In January 2003 a generalized relapse occured, and another cytotoxic treatment, now consisting of cyclophosphamid, doxorubicin, vincristin and prednison (CHOP) was started. During the second course a extravasation of doxorubicin, which was admistered to a peripheral vein, occurred. The patient had to be operated on the following day for the extravasation with debridement to prevent ongoing inflammation and necrosis. Back on the ward the patient complained of difficulties swallowing and speaking as well as coughing up with blood tinged sputum. Within the following hours she developed progressive emphysema on the upper thoracic third. A chest X-ray showed neck emphysema with suspicion of a pneumomediastinum, a finding that was confirmed by CT-scan. An esophageal rupture (Boerhave-syndrome) was ruled out by the oral administration of a water-soluble contrast-agent. The suspected diagnosis of a tracheobronchial rupture after intubation and mechanical ventilation was confirmed bronchoscopically. The rupture was located in the membraneous wall of the distal trachea over a length of about 40 mm and reached the origin of the right main bronchus, covered by mediastinal tissue.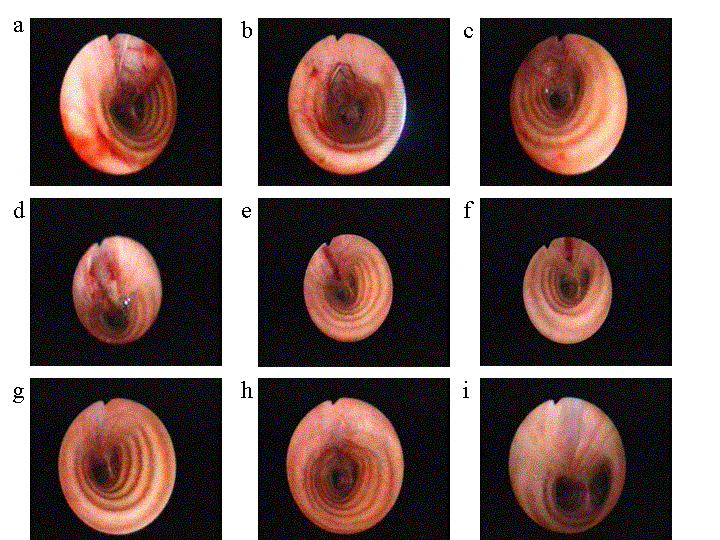 click here for enlarged view >>
The patient was transferred to the intensive care unit for further monitoring. Prophylactic antibiotics consisting of Piperacillin/Tazobactam and Refobacin once daily was started. Due to reduced conditions of the patient and clinical regression of emphysema and respiratory distress during 6 hours the patient was treated conservativelyly without pleural drainage or surgical approach. G-CSF was given to minimize postcytostatic leucopenia, antibiotics were continued for 14 days. The patient continue to recover and repeat endoscopic examination after 1, 3 weeks and 8 weeksshowed healing of the rupture without evidence of fistulation or narrowing of the airways.
MPEG of bronchoscopy - 8 weeks (Right click on link)
DISCUSSION
The incidence of transbronchial rupture after intubation is rare considering the number of tracheal intubations performed for general anesthesia. The most recent series report approximately 31 cases1,2,3,4,5.
Mechanisms for tracheobronchial ruptures have been largely described1. In most cases, they are due to an overinflated cuff or to sudden moves of the tube. A direct tear caused by the tube itself remains rare. These mechanisms explain the location of the lesions, which are posterior, mainly concerning the membranous wall of the trachea or the junction between the membranous wall and the cartilage. Inadequate intubation tube size is one of the most important risks factors reported in the literature6. This explains rupture predominance most particularly in short female patients, as was the case in the present report.
Clinical symptoms occur either immediately during mechanical ventilation (compressive pneumothorax, extensive subcutaneous emphysema) or are more insidious, arising in the postoperative period or later. The development of a postoperative subcutaneous emphysema must immediately lead to performance of a fiberoptic bronchoscopy under sufficient local anesthesia to prevent extension of the emphysema by coughing if the patient has already been extubated. Chest radiograph can show a rightside deviation of the intubation tube7 or an overinflated cuff. Normally surgical intervention should be recommended at an early stage and depends on the length and depth of the lesion, the degree of subcutaneous emphysema, pneumothorax and/or pneumomediastinum as well as clinical signs suggesting incipient mediastinitis.8 . The postoperative mortality was determined to be 42%4 , which was not dependent on the rupture but basically by the underlying diseases requiring intubation.
If pulmonary or mediastinal surgery has not or cannot be performed like in our case, conservatively therapy has to be considered under continuous care2,9,10. The tear must be shorter than one third of the trachea (4 cm), which is the mean length of the endotracheal cuff. These tears caused by the overinflated cuff are not deep in the mediastinum or associated with esophageal lesion. A tear more than 4 cm is generally deeper and produced by withdrawing of the tube without deflation of the cuff. Clinical signs must been stable without progression over a short period of time. A broad-spectrum antibiotic against common tracheobronchial flora associated to antiinflammatory aerosol therapy is indicated. Perfect healing of the lesion after 2 weeks without stenosis in long term follow up is possible.2 Temporary tracheostomy has been proposed in such circumstances, as well as tracheal intubation3. Both try to prevent the patient from sudden intrabronchial hyperpressures caused by coughing, which may worsen subcutaneous emphysema and widen the tear.
We conclude that conservatively treatment has to be discussed when the tear involved in tracheal rupture is short and the patient is in poor condition for surgery.
REFERENCES
1. Marty-Ane CH, Picard E, Jonquet O, Mary H (1995). Membranous tracheal rupture after endotracheal intubation. Ann Thorac Surg. ;60:1367-1371.
2. Jougon J, Ballester M, Choukroun E, Dubrez J, Reboul G, Velly JF (2000). Conservatively treatment for postintubation tracheobronchial rupture. Ann Thorac Surg.;69:216-220.
3. Borasio P, Ardissone F, Chiampo G. Post-intubation tracheal rupture (1997). A report on ten cases. Eur J Cardiothorac Surg.;12:98-100.
4. Hofmann HS, Rettig G, Radke J, Neef H, Silber RE (2002). Iatrogenic ruptures of the tracheobronchial tree. Eur J Cardiothorac Surg.;21:649-52.
5. Gabor S, Renner H, Pinter H, Sankin O, Maier A, Tomaselli F, Smolle Juttner FM.( 2001) Indications for surgery in tracheobronchial ruptures. Eur J Cardiothorac Surg.;20:399-404.
6. Massard G, Rouge C, Dabbagh A, Kessler R, Hentz JG, Roeslin N, Wihlm JM, Morand G (1996). Tracheobronchial lacerations after intubation and tracheostomy. Ann Thorac Surg.;61:1483-1487.
7. Rollins RJ, Tocino I. Early radiographic signs of tracheal rupture (1987). Am J Roentgenol.;148:695-698.
8. Jougon J, Cantini O, Delcambre F, Minniti A, Velly JF (2001). Esophageal perforation: life threatening complication of endotracheal intubation. Eur J Cardiothorac Surg.;20:7-10
9. Ross HM, Grant FJ, Wilson RS, Burt ME. (1997). Nonoperative management of tracheal laceration during endotracheal intubation. Ann Thorac Surg.;63:240-242.
10. Zettl R, Waydhas C, Biberthaler P, Lewan U, Riedl V, Duswald KH, Ruchholtz S. (1999). Nonsurgical treatment of a severe tracheal rupture after endotracheal intubation. Crit Care Med.;27:661-663.

First Published: September 2004