Editorial Comment

The results of the antidepressant side effect registry are available here from January 1996 to date.
Please do bear in mind that the registered side effects for each drug are in the order of hundreds rather than thousands and so that the distribution will be somewhat uneven until the registry builds up.
The pie chart below gives details of the proportion of side effects registered per antidepressant. As time goes by we will be able to supply more detail from the database. Side effects for various antidepressants are available below.
Dr Ben Green,
Editor, Psychiatry On-Line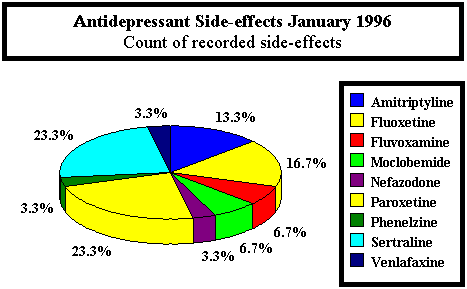 Side Effect Registry: Antidepressants - Side effects registered for Fluoxetine

Side Effect Registry: Antidepressants - Side effects registered for Paroxetine

Side Effect Registry: Antidepressants - Side effects registered for Sertraline

Side Effect Registry: Antidepressants - Side effects registered for Citalopram

Side Effect Registry: Antidepressants - Side effects registered for Moclobemide

Side Effect Registry: Antidepressants - Side effects registered for Nefazodone

Side Effect Registry: Antidepressants - Side effects registered for Venlafaxine

Side Effect Registry: Antidepressants - Side effects registered for Amitriptyline

Last amended: 18/02/00
© Priory Lodge Education Ltd., 1994,1995,1996.
First Published: 6:04 PM on 10/Feb/96
Version 1.2