Browse through our Journals...
<!-google_ad_section_start->
Prosthetic femoral stem fracture with intact femur: A missed diagnosis.

Mr Anil Khanna1
Dr Arun Khanna2
Mr A Massraf 3
1&2. Senior House Officer in Orthopaedics
Peterborough and Stamford Hospitals NHS Foundation Trust
Thorpe Road, Peterborough, UK.
3. Consultant Orthopaedic Surgeon
Peterborough and Stamford Hospitals NHS Foundation Trust
Thorpe Road, Peterborough, UK.
Please address all correspondence to:
Dr Anil Khanna
Senior House Officer in Orthopaedics
Peterborough and Stamford Hospitals NHS Foundation Trust
Thorpe Road, Peterborough, UK. PE3 6DA.

Keywords: Femoral stem fracture, missed injury.
Introduction

Fracture of the femoral stem is a rare mode of failure for total hip arthroplasty. A 1995 survey study 7 reported 172 stem fractures out of 64,483 cases (including both cemented and cement less prostheses), for an incidence of 0.27%. However with increasing number of hip replacements done these days, this complication should be considered in these patients presenting with proximal thigh pain. To our knowledge, literature does not contain any report of a missed fracture of a femoral component in patient presenting with proximal thigh pain after total hip replacement.
The purpose of the present study is to highlight the possibility of this condition in patients with total hip replacement, thus stressing the need of early detection of this condition and hence decreasing patient suffering and prevention of occurrence of adverse changes in the proximal femur thus giving a better outcome.

History

The patient, a 66-year-old female, underwent right total hip replacement for osteoarthritis of the hip in 1998. She was doing very well with the hip till 2004, when one day after a long driving session, she complained of pain in her right groin and difficulty to bear weight. She denied any fevers, chills, or weight loss and had not noticed any erythema or drainage at the surgical wound site. She went to the local hospital after being referred by her general practitioner where an X- ray of her right hip was done. The X- ray was reported as normal (probably as there was minimal displacement of broken prosthetic stem in both AP and Lateral views and also because of rarity of this condition). She was advised out patient physiotherapy for her spine considering her history of spinal problems which used to be relived with analgesics and physiotherapy. For first six months patients symptoms seemed to be helped to some extent with daily analgesics and use of walking stick. She could even drive a car with difficulty till this time. However after this time symptoms began to worsen with severe pain and difficulty in movement (she had to use two crutches and give up driving as she lost confidence in her right leg).This was when the patient was seen in our outpatient clinic, twelve months after the initial episode of proximal thigh pain.

Physical Examination

On examination, the patient was in a lot of distress. She ambulated with an antalgic gait on the right. Her right hip incision was well healed and non tender. The right hip had full range of motion, with reproduction of severe discomfort on palpation of proximal thigh. Neurovascular examination of the right lower extremity was unremarkable.

Radiology Studies

X-ray revealed fracture of femoral component at the middle third of stem. Latest X rays also showed expensile changes in the lateral aspect of proximal femur (Figures3 and 4). The old X-rays were later reviewed and it was found that the fracture had been present for 12 months which was missed at the initial assessment (Figures1 and 2).
Figure 1: Lateral radiographs of the right hip at initial presentation.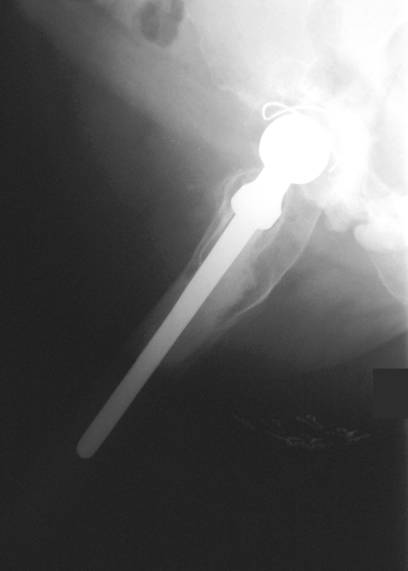 Figure 2: Anteroposterior radiographs of the hip at initial presentation: A
careful look shows break in continuity of femoral stem.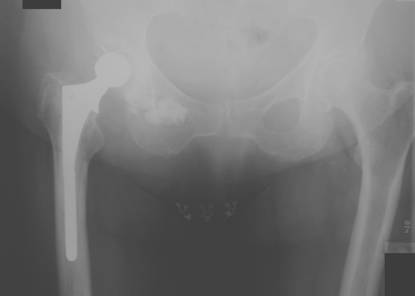 Figure 3: Anteroposterior radiographs of the hip after twelve months of initial break (at time of presentation to hospital): Obvious shift of the broken component with changes in femoral shaft .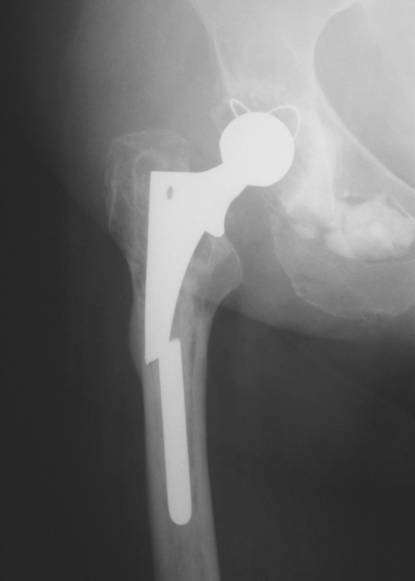 Figure 4: Lateral radiographs of the right hip after twelve months of initial break: Obvious shift of the broken component.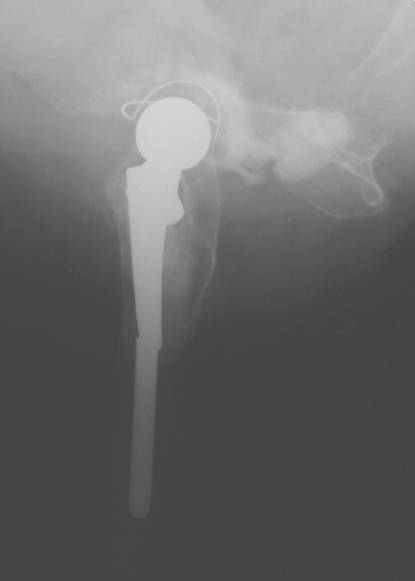 Diagnosis

Missed prosthetic femoral stem fracture with intact femur.

Clinical Course

The patient opted to undergo revision surgery. A posterior approach was used for exposure. Extended trochanteric osteotomy was done. The proximal portion of the broken stem was found to be grossly loose and was removed without difficulty. However, the distal piece remained solidly fixed in the femoral diaphysis which was removed using the OSCAR removal system. The canal was reamed and a Zimmer revision taper Nitrided 16mmx135mm femoral prosthesis was implanted. The osteotomy was repaired using cerclage wires and trochanteric plate also strut allograft and morsellized bone graft was used to augment the fixation and provide stability to already weakened lateral cortex. The acetabular component was found to be well fixed and was not revised. Post operatively at eight months follow up patient was pain free and mobilized wit a walking stick.

Analysis

A review of patient's old notes and intra operative findings revealed that the initial prosthesis was a C- Fit (Cobalt Chrome) 9.0 mm press fit DePuy stem that was cemented in place. As the cement mantle was poor in the proximal femur it seems to have given rise to an area of stress riser which resulted in fracture of femoral component at that point.

Discussion
Although fracture of the femoral component is an uncommon mode of mechanical failure 4, when it does occur, symptoms may be dramatic .In addition, it presents the surgeon with one of the more challenging problems in revision total hip arthroplasty surgery 1. Metal fatigue has been implicated as the usual cause of fracture. The location of the break is typically in the middle third of the stem 11. The time interval between surgery and stem fracture is highly variable, and patients usually present with recent onset pain in a previously asymptomatic and well-functioning hip. Both varus malposition of the stem and patient obesity have been implicated as risk factors, 2,3 although conclusions must be based on the results presented. Valgus malposition may also predispose stems to failure 11. Gruen 5 postulated that cantilever bending of a cemented stem that is well-fixed distally but loose proximally could lead to fatigue fracture, and radiographs of fractured stems have typically demonstrated a deficient cement mantle in the calcar region 2, 3.

In addition, several case reports in the literature describe fatigue fracture occurring through a stress riser due to laser etching of the stem 8 or accidental scoring with a drill bit 6at a region of high stress.

Direct access to the femoral stem can be gained via a cortical window (which provides only limited access) or a femoral osteotomy. Meek 9has described an "extended trochanteric osteotomy" which allows wide access to the femoral canal for removal of an intact or broken stem. With this technique, a tongue of bone comprising one-third of the femoral circumference is elevated, with the soft-tissue attachments of the gluteus medius and minimus and vastus lateralis left intact. At the end of the case, the osteotomy is reattached using multiple cables or cerclage wires. Excellent outcomes have been reported using this technique, with a nonunion rate of only 1% at nearly 4-year follow-up 10.
Conclusions

This patient presented with a missed fractured cemented stem requiring revision arthroplasty. Removal of the well-fixed distal piece was challenging and weakening of the lateral cortex needed augmentation with allograft. Thus this missed injury not only added to the misery of the patient but also made subsequent surgery very difficult. Hence treating doctors should be made more familiar of this rare but serious complication of total hip replacement so that it can be diagnosed and treated promptly.

References

[1] Callaghan JJ, Pellicci PM, Salvati EA, Wilson PD Jr. Fracture of femoral component. Analysis of failure and long term follow-up of revision. Orthop Clin North Am1988; 19(3) 637-647
[2] Carlsson, AS, Gentz C-F, Stenport J. Fracture of the femoral prosthesis in total hip replacement according to Charnley. Acta Orthop Scand 1977; 48 650-655
[3] Galante JO. Causes of fractures of the femoral component in total hip replacement. J Bone Joint Surg [Am] 1980; 62-A 670-673
[4] Gilbert, J. L.; Buckley, C. A.; Jacobs, J. J.; Bertin, K. C.; and Zernich, M. R.: Intergranular corrosion-fatigue failure of cobalt-alloy femoral stems. A failure analysis of two implants. J. Bone and Joint Surg Jan 1994; 76-A 110-115
[5] Gruen TA, McNeice GM, Amstutz HA. "Modes of failure" of cemented stem-type femoral components: a radiographic analysis of loosening. Clin Orthop Rel Res 1979; 141 17-27
[6] Harper MC, Ralston M. Accidental drill bit scoring of a total hip arthroplasty femoral component with subsequent fatigue fracture. Clin Orthop Rel Res 1983; 173 173-177
[7]Heck DA, Partridge CM, Reuben JD, Lanzer WL, Courtland GL, Keating M. Prosthetic component failures in hip arthroplasty surgery. J Arthroplasty 1995; 10 575-580
[8]Lee EW, Kim HT. Early fatigue failures of cemented, forged cobalt-chromium femoral stems at the neck-shoulder junction. J Arthroplasty 2001; 16 236-238
[9]Meek RM, Greidanus NV, Garbuz DS, Masri BA, Duncan CP. Extended trochanteric osteotomy: planning, surgical technique, and pitfalls.
Instr Course Lect 2004; 53 119-30
[10]Miner TM, Momberger NG, Chong D, Paprosky WG. The extended trochanteric osteotomy in revision hip arthroplasty: A critical review of 166 cases at mean 3-year, 9-month follow-up. J Arthroplasty 2001; 10 (Suppl 1) 188-194
[11]Wroblewski BM. Fractured stem in total hip replacement: A clinical review of 120 cases. Acta Orthop Scand 1982; 53 279-284
Copyright © Priory Lodge Education Limited 2007
First Published June 2007