Browse through our Medical Journals...
Therapeutic group work with adolescent refugees in the context of war and its stresses
Natasa Ljubomirovic MD
© Priory Lodge Education Limited, 1996-1999.
Last Amended: 27/03/99
«Return to Psychiatry On-Line Contents
Being a refugee is a condition of extreme stress for any person as it is associated with many traumatic experiences. A traumatic event can be defined as an event that surpasses usual human experiences. Its impact depends not only on its severity, but also on how the individual experiences the event.
In becoming a refugee there is a sudden change of environment and the welfare of the family is jeopardized with uncertainty about future. All of these can cause intense anxiety.
In Balkan countries, the common separation problems tend to occur during late adolescence, on an average at about 25-26 years. Guus Van der Veer (1992) observes that the problems of children-refugees disunited from their parents is a common separation problem during early adolescence. It is also intensified wen it occurs in early adolescence. In the population of adolescent refugee, this problem is severe, because of its sudden appearance, with long-lasting effects, and incapability to anticipate further development. This is further compounded by the fact that adolescents were forced to leave their parents in dangerous areas, so they continue to worry about them and regret about their own escape. They often feel guilty because they tend to assume that they did not fulfill their parents' expectations. On the other hand, they are also keen to achieve independence. Separation from parents, practical difficulties in communication and development of psychological problems, can make adolescents emotionally distant and detached from their parents.
Facing death is a real issue in the world of refugee-children. Such stressfull situations can easily challenge ones maturational processes. Phantasy about death (i.e. phantasmatic) is a normal part of childhood development. However, in war and exposure to mass deaths, this suddenly becomes an experience of reality and the realm of everyday life. Many adolescents experience the possibility of their own death with astonishment and feeling of great injustice. We can recall from our practice the question posed by a young girl, who thought that she was suffering from a fatal illness, and asked her doctor: "Is it fair that I am dying? There are so many older people?" Most adolescents do not talk about death willingly or freely; instead, they talk about other dramatic experiences they have had. Many are surprised when asked about their thoughts regarding death, and one gets impression that they suppress these concerns deep inside.
One particular group of adolescents emphasised the dramatic desertion from home, which has been the typical situation in war regions in former Yugoslavia. Adolescents are precipitously rooted out of their homeland, suddenly tossed to completely unexpected socio-economic circumstances, in some distant and different part of the country. This exposes them to new encounters, new possible identification objects, and discovery of entirely new self-experiencing or self-concept. They are no longer the members of the same family, neither pupils of the same school, nor inhabitants of the old, well-known neighborhood. They find themselves reduced to their sole body. They wear clothes which they did not choose. They are exhausted by dramatic travels and changes of living places. All these events and experiences increase their anxiety. Loss of life projects and anticipation of uncertain future often are cause of depressive crisis.
CASE ILLUSTRATIONS
In order to illustrate some of these issues regarding distressing emotional life and impracticability of adequate socialisation, I have chosen three cases from my first interview; which could help us to understand the severity of traumatic experiences.
Case one.
A refugee boy, aged seventeen, separated from parents for the first time. To quote his own words: "I left for three days and stayed four years." He wanted to point out hisstartleness, which made it difficult for him to settle in a new environment. He lived in Sarajevo, in the zone of intense combats, with his sister, 6-months pregnant. Because of her he left Sarajevo, "only for three days". The combats were so intense that they could not go back.He was offered the opportunity to make written contact with his parents more easily and frequently than usual. Although he did not refuse this opportunity, he did not show any special interest in this communication either.
This case shows adolescent's experience of having been uprooted from his environment and family. He does not belong to anyone any more; his refusal of contact indicates a depressive-type of denial of reality.
Case two.
A fifteen-year old refugee boy experienced the beginning of war with immense fear. At the square in his native town, he saw corpses of two men he knew. He does not wish to go back to his native town or to live there with his parents any more.
This boy, witnessing death of people he knew, discovered the proximity of death; identifying with the corpses at a deeper level, he saw the murders as a part of his own self. The fear has not been worked through. It is kept alive by pictures of remembrance, but is suppressed by actual needs of living. It is also masked as a restraint, and an expression of courage and maturity.
Case three.
A boy aged sixteen experienced the beginning of war as a "chaos". "Mother, brother and me, we were sitting at lunch table, when neighbour came in and told us to run away immediately because enemy was getting into our village... we escaped in slippers..."
In this case, fear of death and uprooting were mixed, but the boy stayed with his family, which is the fact that is restoring his tenacity in new circumstances.
THE STUDY
Sample and instruments
The adolescent refugees from Bosnia, Herzegowina and Croatia, aged 14 - 20 years, were hosted in boarding schools in Belgrade. This study lasted for three years (1992-94). In these boarding schools there were children and adolescents from countryside too, who attended school in Belgrade. The total number of adolescents was 174. We have divided them in two groups. The first group consists of refugees separated from their parents; the other group consists of those who, in addition to separation, also had some other traumatic experience. The first group was a Group with moderate traumatic experience, and the other with severe traumatic experience.
I was interested in exploring their psychic difficulties, and differences between the two groups, if any. CWTQ and Achenbach questionnaires were used in this study: CWTQ - Child War Trauma Questionnaire is a part of a battery of instruments for individual application (Wolf, 1994). This has been successfully used in the former Yugoslavia and in Kuwait to establish stress or trauma in children & adolescent refugees. Information acquired by the questionnaire provide a detailed insight into the kind, extent and intensity of the trauma. ACHENBACH QUESTIONNAIRE: (Achenbach & Edelbrock 1983). is mostly applied to check adolescents aged 11-18. It is in written form, consisting of a scale of competence (7 items) and a scale of syndromes (119 items), detecting behavioural and social problems in adolescents. There are eight ubscales of syndromes: 1. Withdrawal; 2. Somatic complaints; 3. Anxiety-depression; 4. Social problems; 5. Thinking problems; 6. Attention problems; 7. Delinquent behaviour; 8. Aggressive behaviour.
The Traumatic events were divided into following groups:
1. Displacement (100% of girls and boys)
2. Separation from parents (100% of girls and boys)
3. Exposure to combat (55,4% of girls and 42,2% of boys)
4. Huge deprivation (53,8% of girls and 62,6% of boys)
5. Witnessing death (23,1% of girls, and 29,4% of boys)
6. Injury of family member or close friend (24,6% of girls and 17,4% of boys)
7. Active role in combats (3,1% of girls and 5,5% of boys)
8. Victim of violence (6,2% of girls and 2,8% of boys)
PSYCHIATRIC DISTURBANCES IN ADOLESCENTS
1. Distribution according to GENDER
Upon establishing the sort of war-trauma to which adolescents were exposed, it was necessary to establish their psychic difficulties.
Table 1. Scale of problems according to gender
Variables

Female

Male

Total

F

Sig

X

Sd

X

Sd

X

Sd

1 TWS*

4.81

2.22

3.70

2.36

4.10

2.36

9.2810

0.0027

2 TSCS

2.78

2.17

1.36

1.82

1.88

2.07

21.0563

0.0000

3 TADS

10.06

5.74

7.34

4.56

8.34

5.18

11.7557

0.0008

4 TSPS

3.10

1.91

2.73

2.01

2.87

1.98

1.3368

0.2492

5 TTPS

2.90

2.61

1.94

2.16

2.30

2.37

6.7442

0.0102

6 TAPS

6.21

3.19

4.23

2.73

4.95

3.05

18.4786

0.0000

7 TDBS

2.73

2.16

2.91

2.40

2.84

2.31

6.2352

0.0103

8 TABS

7.86

5.06

6.47

4.26

6.98

4.60

3.6932

0.0563
*W: Total withdrawal scale; TSCS: Total somatic complaint scale; TADS: Total anxiety-depression scale; TSPS: Total social problems scale; TTPS: Total thinking problems scale; TAPS: Total attention problems scale; TDBS: Total delinquent behaviour scale; TABS: Total aggressive begaviour scale p<0,05
Graph 1. Scale of problems according to gender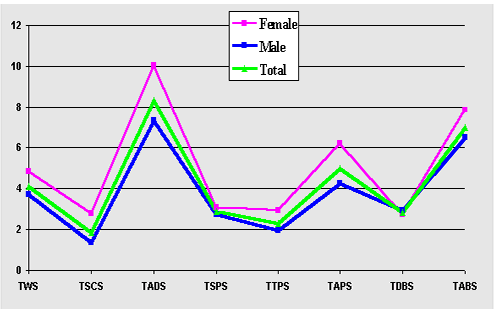 In Table 1, eight variables showing psychic problems of adolescents are given. We can see that there is a statistically significant difference between the genders in all variables, except in variable 4. Variable 7 describes delinquent behaviour, where males have higher scores than females. In other variables, females have scored higher than males. In Graph 1, given variable could be seen as point of inversion. Variable 4 describes social problems where values for males and females are approximately the same.
2. PSYCHIATRIC DISORDERS IN GIRLS
Our aim was to see if there were any differences between girls who had severely traumatic experiences and girls who had moderately traumatic experiences.
Table 2. Scale of problems relating to severity of trauma in females
Variables

Moderate trauma

Severe trauma

Total

F

Sig

X

Sd

X

Sd

X

Sd

1 TWS

4.75

2.12

4.86

2.33

4,81

2.22

0.0357

0.8509

2 TSCS

2.57

2.30

2.94

2.07

2.78

2.17

0.4534

0.5033

3 TADS

9.82

6.72

10.02

4.90

10.01

5.74

0.0884

0.7672

4 TSPS

3.21

2.02

3.00

1.83

3.10

1.91

0.1939

0.6612

5 TTPS

2.82

2.21

2.97

2.92

2.90

2.61

0.0507

0.8226

6 TAPS

5.96

3.20

6.40

3.21

6.21

3.19

0.2871

0.5940

7 TDBS

2.82

2.00

2.66

2.31

2.73

2.16

0.0883

0.7673

8 TABS

7.32

4.46

8.27

5.52

7.86

5.06

0.5601

0.0563
Graph 2. Scale of problems relating to severity of trauma in females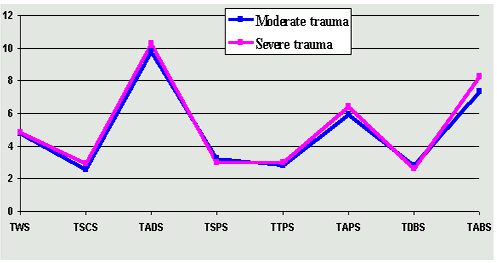 The results show differences, but they are not statistically significant. It seems that the state of being a refugee, as a traumatic experience, severely affects the psychological life of young people, regardless of other war-traumas. Results are given by arithmetic middle, p<0,05 and standard deviation.
3. PSYCHIATRIC DISORDERS IN BOYS
Table 3. shows the difference between the problems in boys who had moderate traumatic experience and those who had severe traumatic experience.
Table 3. Scale of problems relating to trauma in males
Variables

Moderate trauma

Severe trauma

Total

F

Sig

X

Sd

X

Sd

X

Sd

1 TWS

3.38

2.44

4.10

2.20

3.70

2.36

2.5985

0.1099

2 TSCS

1.02

1.41

1.79

2.18

1.36

1.82

5.0381

0.0269

3 TADS

6.54

4.05

8.35

4.99

7.34

4.56

4.3827

0.0387

4 TSPS

2.61

2.04

2.90

1.98

2.73

2.01

0.5529

0.4588

5 TTPS

2.00

2.42

1.88

1.81

1.94

2.16

0.0889

0.7662

6 TAPS

3.87

2.75

4.69

2.66

4.23

2.73

2.4469

0.1207

7 TDBS

2.82

2.28

3.02

2.56

2.91

2.40

0.1870

0.6663

8 TABS

5.97

4.48

7.10

3.92

6.47

4.26

1.9327

0.1673
Graph 3. Scale of problems relating to trauma in males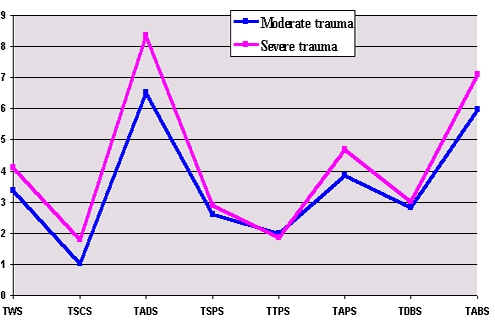 In Table 3. we can see a statistically significant difference in variables 2 - somatic difficulties and 3 - anxiety-depression. We can say that boys who experienced severe trauma also have more severe problems on these variables. Similarly the curve in Graph 3. shows that boys who experienced severe trauma were exhibiting more problems on these scales.
4. SEVERITY OF TRAUMA AND GENDER
Analysing the differences between boys with severe and moderate traumatic experience, and similarity between girls with severe and moderate traumatic experiences, we can see a difference between genders relating to the impact of the severity of trauma. This analysis is shown in Graphs 4. and 5.: Graph 4. Distribution according to gender, related to severe traumatic experience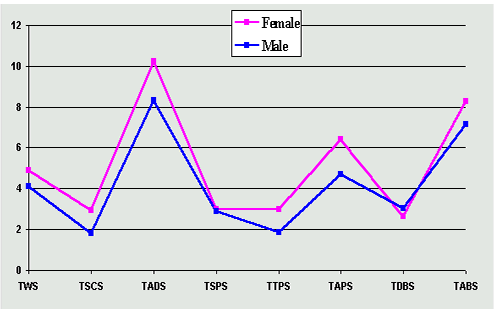 It can be seen that girls, in comparison to boys, show more severe problems, except in variable 7 - delinquency, where both groups have had severe traumatic experience.
Graph 5. Distribution according to gender, related to moderate traumatic experience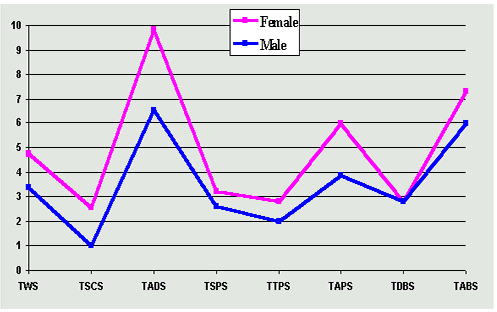 It can be seen that girls, in comparison to boys, show more severe problems in all scales, regardless of the severity of the traumatic experience.
PRINCIPLES OF GROUP WORK WITH ADOLESCENT REFUGEES
"Belgrade is more than ugly these days. I feel some strange restlessness. I know my worries; this one I can not recognise. I suppose there is life worth of living somewhere on this planet..."
One girl refugee was hosted in a boarding school and visited our Youth Club where she met with her peer refugees, and others from the countryside and Belgrade. This girl wrote the above:
We began this study with the idea of helping young people, both girls and boys. We hoped to be able to help them feel that Belgrade can be a pleasant place to live and to discover that life is worth living, and human beings can give each other both joy and love.
In group work with adolescents, we take into consideration the specific needs of adolescence:
Adolescents are seeking for encounters

Adolescents are seeking for membership in groups

Adolescents are keen to express themselves creatively

Adolescents are intrigued by all not known to them.
This group work with adolescent refugees began in 1992. It was conducted by a team of professionals including those from psychiatry, psychology, social work, pedagogy and specialist teachers. Groups were held at boarding schools, once a week, consisting of 10 - 15 members and two therapists. Groups were of open type and the work was organised in two parts in total lasting 90 minutes. In first 45 minutes of group work, we tried to achieve emotional relaxation of adolescents, their relief from accumulated aggressive feelings and confusing contents caused by actual situation, war and crisis. By group work we are trying to encourage feelings of membership in new circumstances of new reality - boarding school, school, part of the town, etc. Each group member is also encouraged to talk with therapist alone.
The other part is entertainment, so that therapists could get close to adolescents, as much as possible, to help them to feel warmth, to get interested in their social life and start talking about themselves and things which are confusing to them (Dwivedi, 1993). Carefully listening to their stories is of utmost importance (Dwivedi, 1997).
In downtown, there is a Youth Club where boys and girls come from their boarding schools once a week. By travelling from boarding schools to the Youth Club they can get acquainted with this new town - it is not so huge, strange and ugly to them any more. In this Central Youth Club they could meet celebrities - writers, painters, musicians, who are offered to these young people as a new identification patterns in their new group and individual aspirations. At our literary soirees we have achieved verbalisation of fear, anger, hopelessness, which helped them cope with emotional fears, and had a great impact on their self-confidence and maturation.
Cultural and social experiences such as, visits to museums, walking through the town in peace time, talking with celebrities and so on, led to creative interactions occurring in group work. Thus, they discovered different possibilities for living, thinking and feeling in themselves and inside became rich and more mature.
The Adolescents are finding it easier to open up with group members. One story encourages the other. Adolescents can comprehend in-group that they are not alone with their problems, that they can share them with other group members. Besides, those quick-witted boys and girls are often able to give better advice than the therapist is. A great number of adolescent refugees are coping successfully with their problems; sometimes, facing disaster sets them on their feet making them mature and smart. They are making their first steps in life with better foundations than some other older adolescents are.
Sometimes I left the group work amazed by the enthusiasm of these injured young people, but I suppose, youth should be like that.
Adolescents' psychological problems are sometimes intensified by the misunderstandings of teachers. This could be one of the most important stress factors in the mental health of adolescents living in boarding schools. Forcing them to behave "maturely", pedagogues may obstruct their capacity to express their feelings. Education for teachers was organised too, in order to help them understand better the problems that adolescents have.
The emphasis is on enabling adolescents to understand and realise their own feelings, and to be able to communicate them to others. In addition to prevent more serious disorders, they are expected to manage their feelings and minimise suppression of their feelings.
CONCLUSION
I would like to conclude that social factors affect the outcome of traumatic events (McFarlane, 1987; Goenjian, 1993; Kulka & Schlenger, 1990). There is substantial evidence that social support is reducing stress. There are many studies showing that good social support is related to better outcome after war (Cook & Bickman, 1990). This fact is supported by the results of our questionnaire too, which was conducted among adolescent refugees at boarding schools. The Youth Club was marked as "helpful" in 90% of these adolescents and is of great importance for securing psychosocial help to adolescents affected by war.
References:
Achenbach, T.M. (1991): Manual for the Youth Self-Report and 1991 Profile. Burlington, VT: University of Vermont Department of Psychiatry.
Achenbach, T.M., Edelbrock, C.S. (1983): Manual for the Child Behaviour Checklist and Revised Child Behaviour Profile. Burlington, Vermont: University of Vermont, Dept. of Psychiatry.
Cook, J.D. & Bickman, L. (1990): Social support and psychological symptomatology followint a natural disaster. Journal of Traumatic Stress, 3, 541-577.
Dwivedi, K.N. (1993) (Ed). Group Work with Children and Adolescents. London: Jessica Kingsley.
Dwivedi, K.N.(1997) (Ed.) Therapeutic Use of Stories. London: Routledge.
Goenjian, A. (1993): A mental health relief programme in Armenia after the 1988 Earthquake: Implementation and clinical observation. British Journal of Psychiatry, 163, 230-239.
Kulka, R.A., Schlenger, W.E. (1990): Trauma and Vietnam war generation: Report of findings from the National Vietnam Veterans Readjustment Study. New York: Brunner/Mazel.
McFarlane, A.C. (1987): Family functioning and overprotection following a natural disaster: The longitudinal effects of post-traumatic morbidity. Australian and New Zeland Journal of Psychiatry, 21, 210-218.
Van der Veer, G. (1992): Counselling and Therapy with Refugees: Psychological Problems of Victims of War, Torture and Regression. London: Karnac Books.
Wolf, B. (1994): "Prirunik za primenu eksperimentalne verzije baterije za grupna psiholoka ispitivanja i standardizovanog intervjua s traumatizovanom decom". Univerzitet u Beogradu.